JET TORQUE MARINE was founded in 2000, during a time when RIBs were an uncommon sight in Western Australian waters. Since then JTM have been a key player in the huge growth in popularity of the RIB hull form in WA, with the Elite Gemini remaining at the forefront of this progression.
---
Our tubes are made only from the very best & certified Orca Hypalon, which is highly resistant to temperature, abrasion, fuel, chemicals and UV light.
The Elite Gemini Inflatable Hypalon tubes are made up of several separate compartments with the number varying depending on the size of the vessel.
Our fibreglass hulls comply and exceed world standard construction procedures and codes, and are accepted worldwide for commercial use in many different types of applications.
Here in Australia we are able to meet and exceed our new AMSA commercial construction rules & formats meaning when you purchase an Elite Gemini for pleasure use you have the comfort of knowing your new boat is built to the same stringent rules that comply with commercial vessels.
Our hulls are constructed using resin infused fibreglass, enabling us to precisely control all aspects of the hull structure and strength, and maximise the hull to weight aspects of fibreglass hull construction
Even our fibreglass resin infused hull framing systems are laid up in their own specific moulds.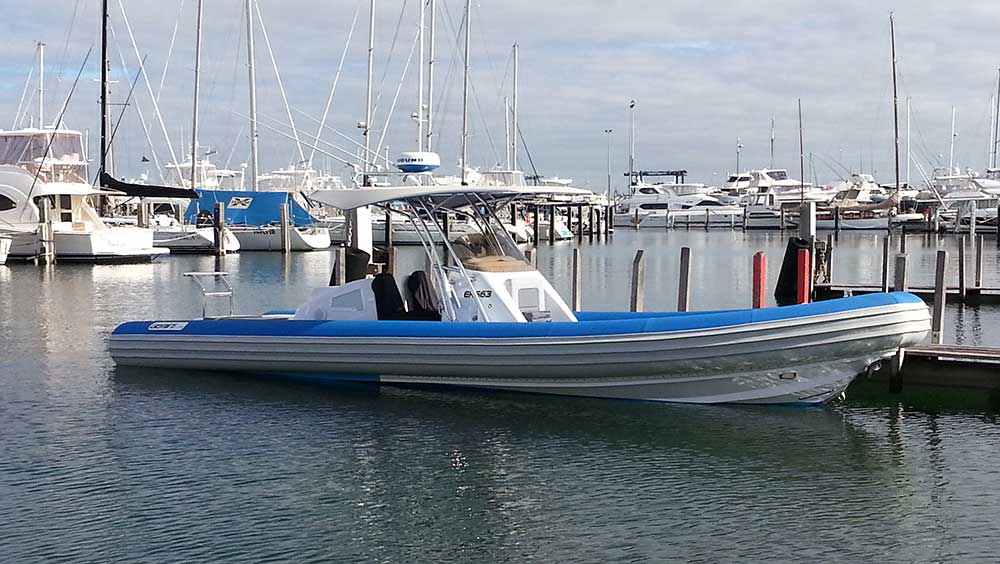 Our hulls are then foam filled for positive buoyancy ensuring the safety of all who use an Elite Gemini.
Exceptional Sea Keeping

Confidence Inspiring

Exceptional Stability

Easy to Handle